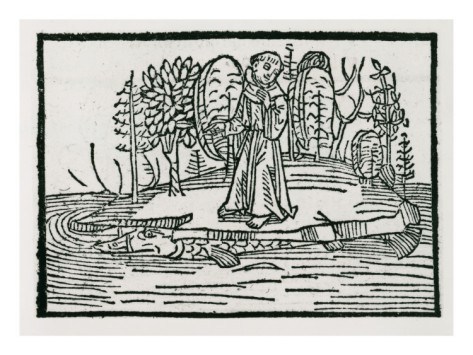 ▲ St Brendan on Fish Island, from a medieval German codex.
Seamus set out to sea for a day of fishing in his leather clad curach adhmaid, but a gale blew him far over the waves along the long lost path of St Brendan. At a time and place no one can tell he fell ashore a tiny island without a name or an entry on any map.
The island lacked sirens, cyclopes and sheep, and although when he first arrived he lived in a cave, he didn't watch the shadows cast upon its walls because this isn't that kind of allegory.
He'd soon built for himself a luxurious hut and a series of wooden machines to harvest coconuts and fishes, leaving him time enough to comb the beaches for wreckage and debris. What he found were bottles with tiny notes in them, sometimes so many that it seemed all the sand in the world had been refined to glass, all the trees processed for paper.
Thousands of notes he read, or tried to read. Many of them had been washed clean of ink by the sea, were written in an alphabet he could not decipher, or contained nonsense scribblings freshly liberated from a sanitarium.
Once in a long while, though, he would find a note in his own language that told a tale worth reading. He found stories about seasick sailors, ships, and the cruel sea; machines that make decisions; gardens falsely advertising forking paths; pirates and their wooden legs; the genetic fingerprints of school children; magical rat wranglers; great escapes from war torn countries; gods, one-legged and otherwise; balloons; the future (often); tamales to kill and die for; gamification; talking rabbits; demons; snow, and all the names for it; killing and freedom; dying and servitude; office life and death; Cartesianal glands and cogital follicles; celebrity speakers; unending tears; the end of coins; brown paper packages; vampires and their hunter; adventure!; wren's teeth; cocoons of spacetime; numbing cold; the efficient encoding of trivia; flowers; Chilean poets; mermaids; the effects of vinyl records on the fates of men; the hearts of trees; heartless commerce; longevity; vaccination and revenge; beloved zombies; viral videos; cowshares; gangsters; loss; anxiety; tangled threads; feeding imps, couches, and other things; unexpected paparazzi; digital dopplegangers; floodwaters; royal envoys; lovers (often); aliens; infantile tyrants; ghostly infants; Schnauzers; corporeal dopplegangers; the indigent; editorial assistance; nursing the dead; tiny fiery hells; giant ice dragons; a magic eraser; puppet prostitution; theft in many forms; the power of the right raincoat; plush gods; space wars; inescapable identity; juvenile delinquents; organ grinders; angry men with a peaceful god; death, death, death; getting it wrong on the way to getting right; and a long series of notes each of which described a peculiar yet familiar stranger.
He saved the empty notes that washed up on shore and wrote his own stories over them using squid sepia and a feather plucked from a gull, spending every day reading and writing stories and feeling glad to have them because they were the only thing that made him feel less alone on his island home.
As the years wore on, Seamus grew old and tired and knew his days of writing stories were coming to an end. The last note he wrote, the one you're reading right now, said simply: thank you.
§
This entry is part of Jack Rusher's archive, originally published January 31st, 2013, in New York.