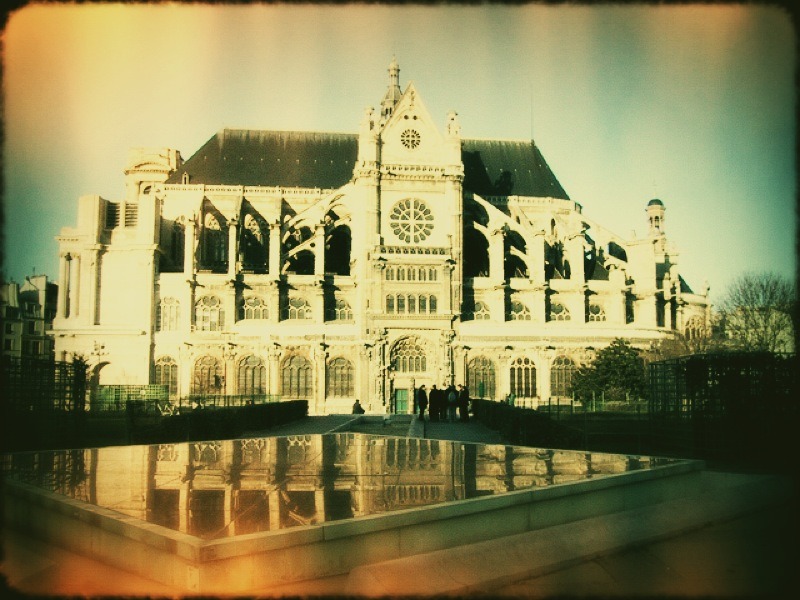 ▲ L'église Saint-Eustache at dawn, Jack Rusher, 2001
Dingy yellow street lights barely pierced the foggy, autumnal nightgloom as he hauled himself to yet another obligatory Left Bank ex-pat soiree populated with the usual drab grey ensemble of poets-who-might, poets-who-almost and poets-who-never-will mixed with a freshly baked batch of starstruck Stendhal-syndromed students, eyes agog at la plus belle ville du monde.
The poets talked their usual talk.
—Me, me, me.
The students listened, occasionally interjecting.
—O, you!
He spent the evening as usual: standing alone, drinking, looking without seeing, until the glint of green eyes hovering over claret held in rosé fingers outshone the room and the night.
Aurora, she said her name was, and they lost themselves for hours in a kaleidoscope of talk.
—You.
—You?
—You!
—You…
They were the last in that empty café, until green-suited, yellow-vested street sweepers sluiced the stone grey gutters with clear water and scrubbed the nightgloom from every cobble.
At last, he stole a kiss and with new eyes glided home beneath the first rays of gilt-edged morningsun.
§
This entry is part of Jack Rusher's archive, originally published January 4th, 2011, in New York.